A shower is one of the most important fixtures in your bathroom. It's where you start and end your day, so it's important to have a shower that meets your needs and is comfortable to use. If your shower is outdated or isn't functioning properly, it might be time for an upgrade, or even a remodel. Here are three reasons to install a new shower in your home.
Improved Functionality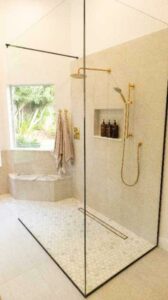 Older showers can be difficult to use, especially if they don't have features like built-in seats or grab bars on the walls. Modern showers are designed with accessibility in mind, so they can be used by people of all ages and abilities. If you or someone in your family has mobility issues, a new shower can make a big difference in your quality of life.

Enhanced Aesthetics
A new shower can also enhance the look of your bathroom and increase your home's resale value. There are many different styles of showers available, so you can find one that fits the overall design of your bathroom. Some modern styles include a rain shower, walk in showers, or glass shower enclosures. Whether you want a sleek and modern shower or a more traditional one, there's sure to be an style that suits the look and feel you're going for.
Increased Efficiency
If your old shower is wasting water, it's time for an upgrade. Modern showers are much more efficient than older models, so you'll save money on your water bill each month. Many new showers also come with low-flow shower heads, which further reduce water usage. Not only is this good for the environment, but it will also help you save even more money in the long run.
Installing glass shower doors and enclosures is one of our services, along with providing mirrors or any custom glass that you need for your home. One of the biggest benefits of modern glass shower features is their increased functionality. Some of the latest trends in new showers include additional features like built-in storage, an adjustable shower head, and custom shelves for storing toiletries and other items. Plus, a glass shower door can help keep your bathroom clean by reducing splashing and making it easier to clean the rest of your bathroom. The glass can also reduce how dark it is if there aren't any lights placed directly in your shower for you to see, or you just need the extra visibility.
If you're thinking about upgrading your shower, now is the time to do it. A new shower can improve the functionality, aesthetics, and efficiency of your bathroom, and it will increase the value of your home as well. If you want to install any glass features for your new shower in your house, contact our team of professional glass installers and repairmen at Atlantic Glass. We'll help you create the perfect modern bathroom shower for your home and provide expert installation services so you can start enjoying your new space as soon as possible.